SORRY FOLKS, FIELD TRIP CANCELLED DUE TO LACK OF PARTICIPATION. SEE YOU AT TOMORROW'S HOLIDAY PARTY!
We're heading north to Coral Gables, the big metropolis! They have beautiful decorations during the holiday season and we've decided to shoot them. The date is Dec. 4th, it's a Monday, so hopefully less people on site and less traffic.
Let's meet around 5pm. If you're going to be late, let us know in advance (when you RSVP) so we can keep you up to date of our location if we need to move. Sunset is at 5:30 so get there on time if you want to shoot City Hall in its best light. After the sun goes down the lights start twinkling. That's when we will have some fun.
Maybe afterwards we can head on over to John Martins for a hot toddy or whatever treats your fancy.
BE SURE TO RSVP to info@sfnpcc.org and let us know you're coming. If you'll be running later than 5pm, let us know that too.
Items to bring:
Tripod
Remote Shutter Release
Wide and Zoom Lenses
Appropriate attire for the weather
Any refreshments as is necessary for you
 
We'll be walking around the city hall area so wear comfortable shoes; and also, only carry with you what you will need. No need to weigh yourself down with unnecessary items.
Below are aerial photos of the area we'll be shooting.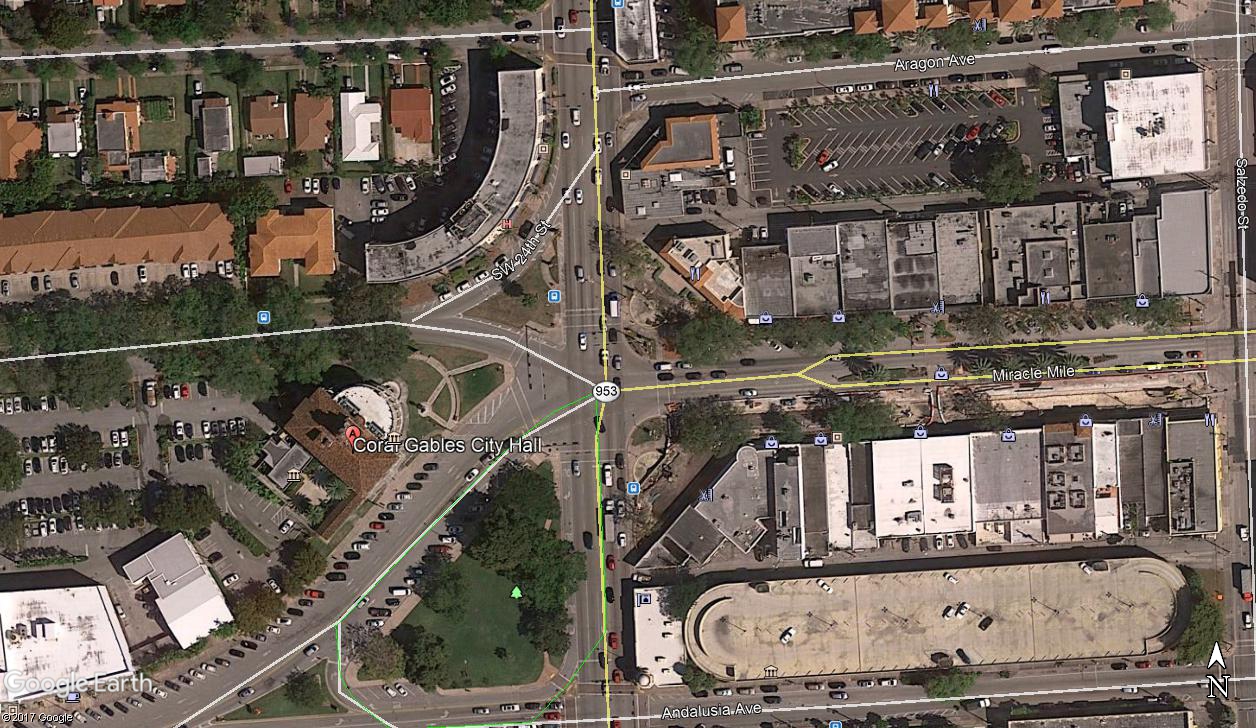 This is the overall area. The middle of the map going north and south is LeJeune Road or SW 42nd Avenue. Middle of the map going east and west is Miracle Mile/Coral Way.
Parking area is on Aragon Avenue, just east of LeJeune Road.
We will be photographing the area circled, which is the Coral Gables City Hall, which is at the intersection of the Miracle Mile/Coral Way and Le Jeune Road.
We will meet in the circled area, on the northeast corner of the intersection of Miracle Mile/Coral Way and Le Jeune Road.
Consequently, John Martins Irish Pub is a block and a half east of this location.